During this penitential season of Advent, we look inward and examine ourselves to prepare for the coming of Christ. In clearing away the inward clutter, we focus on the essentials of faith…..hope….peace….and so on.
By stripping away the excess, the busyness, and the noise of the season, we might be tempted to think we are missing out on all the excitement. However, when we stop and take time to quiet ourselves, we find something much greater…unexpected joy.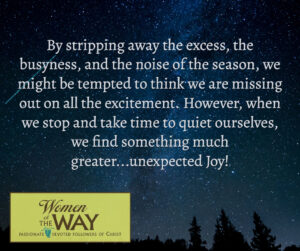 Watching leaves fall in the woods, delighting in giggly girls upstairs, enjoying the soft glow of lights after everyone's gone to bed, gazing on the galaxy of stars on a crisp night, feeling the laughter of community in the church play, and dipping treats in chocolate with friends….these have been my joy this season in the midst paperwork, fevers, shopping, and rehearsals.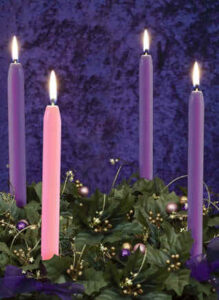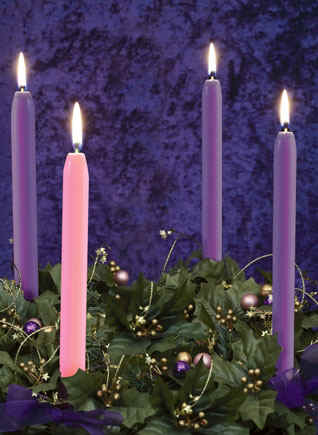 As we light the third pink candle of Advent, may we quiet ourselves in prayer, meditation, and solitude turning our hearts to Christ. And, in the midst of the season, we will find Joy because our hearts in tune with His.
What unexpected joy have you found this season?
Here's an Advent devotional that focuses on gratitude, hope, peace, joy and more. You will feel more focused on the true meaning of the season so you can fully celebrate Christmas! Sign up here!
~Amy